In this era of digitalization, the web is expanding with an ever-increasing number of websites. Indeed, there are more than 1 billion websites on the world wide web, and the number keeps growing every second. Thus, this has become a common desire of every people both in Bangladesh and worldwide that the website they are establishing must be unique and distinguishable to stand in the competition by adding as much customization as possible. Amazingly, WordPress (WP) development offers the opportunity to tailor a website based on preferences that best suit the website's purpose. This is one of the many reasons why WordPress (WP) has become widely popular in every website development company in Bangladesh.
Aside from WordPress (WP), there are other site-building packages like Joomla and Drupal, which are extensively used and available for free download and customization. However, WordPress (WP) exceeds all other content management systems based on several factors, which will be discussed below. Moreover, unlike other management systems, WordPress (WP) has super accessible features for beginners that require no high-level expertise of coding or programming and makes it trendy among all types of users.
WordPress, the King of CMS
In 2003, WordPress (WP) was first introduced as an open-source platform, which currently powers more than 40% of websites on the internet. Within the span of around twenty years, WordPress has become the most preferred platform for website development for numerous advantages. According to W3Tech, WordPress (WP) controls around 61.8% of the CMS market share. Popular websites around the globe, the White House, BBC America, Coca-cola, the Wall Street Journal, and many more are developed employing the WordPress (WP) content management system.
Alongside, there are infinite reasons why and how WordPress is playing the dominant role like a king in the CMS market. Some of them are listed below:
–A Wide Range of Google Search
The popularity of WordPress can be assumed by looking at the number of google searches containing the keyword 'WordPress', which is near to 450,000. If we count it by considering the global search, there are over  2.9 million search results. Well, I believe these figures are enough to prove that WordPress is widely in vogue.
– Considerable Number of Downloads
WordPress 5.9 version was introduced in January 2022, which has already gained fame among web development companies in Bangladesh as well as abroad. The number of downloads for this version exceeds 20 million, which keeps increasing every second. This significant volume of WP downloads indicates its demand among developers. You can also check the real-time data from the download counter and observe how fast the number increases.
Likewise, the number of downloads for WordPress plug-ins is well sufficient to prove its notable demand. For example, here are a few statistics collected from WordPress's official site.
More than 82 million total downloads make Akismet the most commonly used plugin of all time.
The next position goes to Jetpack, with exceeding approximately 53 million downloads
Eleven plugins have attained around 7+ million downloads, and these are" WooCommerce, NextGEN Gallery, WordPress Importer, WP Super Cache, Google Analytics by Yoast, Google XML Sitemaps, Jetpack, Contact Form 7, Yoast SEO, All in One SEO Pack, Wordfence Security.
Nineteen plug-ins named Hello Dolly, W3 Total Cache, Contact Form 7, Really Simple CAPTCHA, All in One SEO Pack, Google Analytics by Yoast, Google XML Sitemaps, WordPress Importer, Regenerate Thumbnails, WooCommerce, WP-PageNavi, WP Super Cache, Jetpack, TinyMCE Advanced, NextGEN Gallery, Wordfence Security, Yoast SEO, Advanced Custom Fields, Akismet have got more than 1+ million active installs mark.
– Continuous Activities
Considering the popularity of WordPress, the leading content management system, the activities of WP sites are surprisingly rich. According to the official WordPress website, users around the globe make 27 posts every second, which creates 1,620 posts every minute, 97,222 posts every hour, and 2,333,333 new posts every single day. Eventually, WP sites generate approximately 70 million new posts and 77 million new comments each month, which is the highest in the market.
– Overwhelming Number of Page Visits
As it is one of the most active platforms, WP gets the most visitors each month which is nearly 156 million, as reported by Automatic.  It is also stated that the page reach of the WordPress network has hit 22 billion, which is almost equivalent to the world's total population.
The above-discussed factors are well enough to prove why WordPress is still controlling the place of the king in the market. There are also plenty of advantages that make WordPress development conventional and preferable in every WordPress development company in Bangladesh.
Why is WordPress the Ideal Choice of Every Website Development Company in Bangladesh?
For the last couple of years, especially during the outbreak of Covid-19, Bangladesh has been facing a drastic rise in creating the web identity of businesses. The reason is everything is being online, particularly while the pandemic locked everyone inside the home. Accordingly, developers are facing a boom in website development.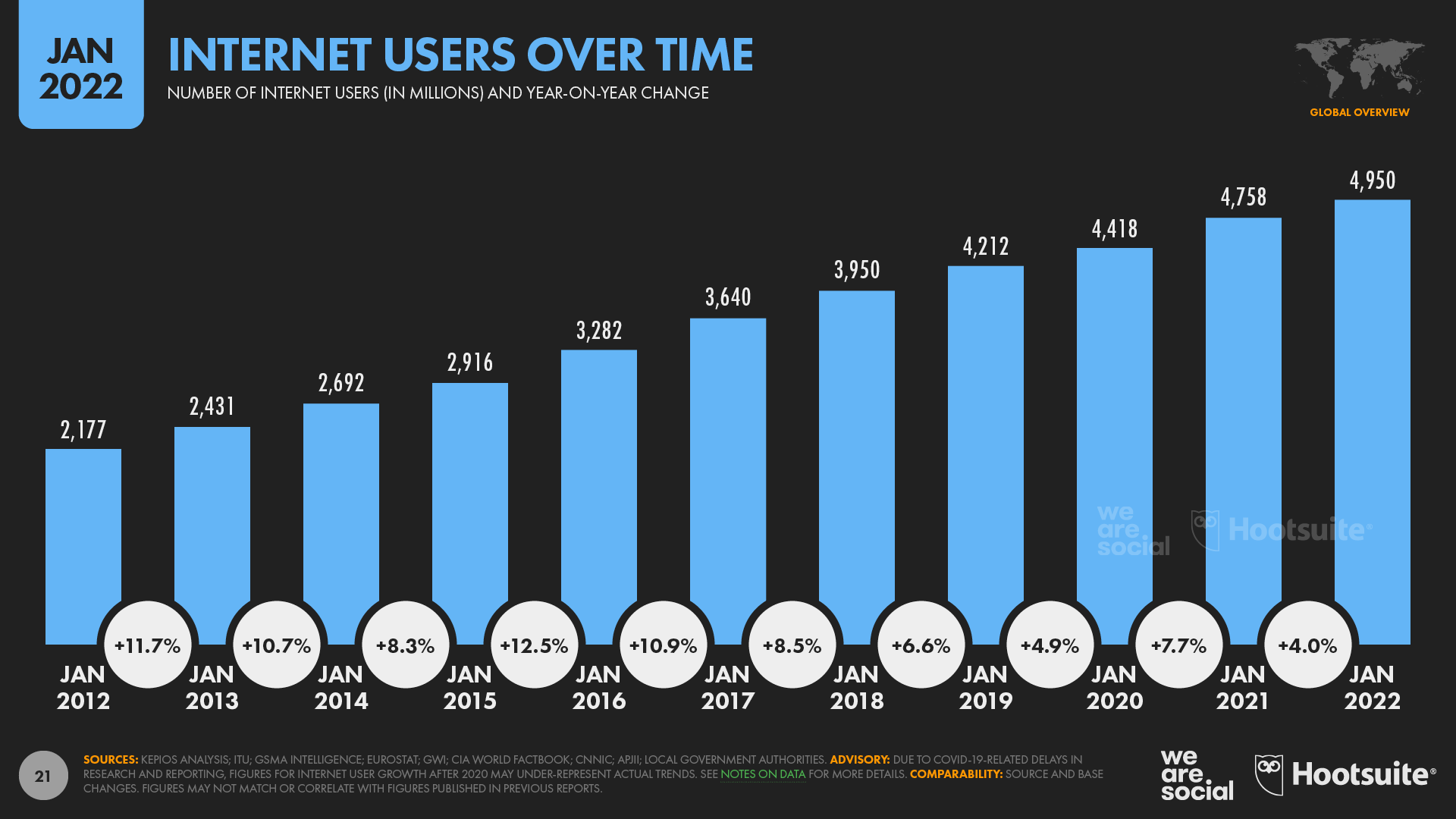 Source: DATAREPORTAL
With this increasing demand, every web development company in Bangladesh prefers a user-friendly, cost-effective, and easily accessible platform to build websites. Therefore, WordPress is their ideal choice as it offers multiple opportunities in website development.
Some of its benefits are discussed below:
– Open Source Software
Since the outset of WordPress, it has always been free for users. You can easily download your personal copy just by visiting the official website, wordpress.org, and clicking the 'Get WordPress' button. However, in case you do not have the idea or time to install, run, and host your website, you might need help from experts.
– Flexible and Adaptable
WordPress has a multitude of uses for different websites ranging from complex multinationals to small businesses, even for personal blogs. You can also utilize WordPress for full-service e-commerce business, portfolios, or even for hosting a social network, group, or podcast. Thus, WordPress is suitable to develop a functional website and fulfill multiple needs of that particular website with its core packages supported by basic or premium plug-ins.
– User-Friendly
With recent technological advancement and availability, it has become essential for almost every business to have its website for its own brand identity. Also, the process of establishing web identity should be easily attainable so that businesses from all strata of society can take this opportunity. Here, WordPress is an ideal platform as it can be installed without any complexity, in fact, anyone without programming expertise can download and install it.
Indeed, WordPress makes the developer's job faster as they do not have to build a website from scratch, instead, they can use pre-built development features by the WordPress community including the programming language and coding attribute of the project.
Besides, editing is super user-friendly in WordPress sites with the purpose that beginners can work on it as well. Anyone who has basic knowledge of Microsoft Word can easily edit without even touching the HTML. Moreover, whatever changes are made on the WordPress dashboard looks exactly the same as working on a live website, therefore, one has not to worry about how the changes will turn out while editing.
– Extensive series of themes and plug-ins
Currently, the WordPress theme directory has 9,246 free themes.

Source: WordPress Theme Dictionary
The biggest benefit of getting thousands of free themes on WordPress is that the apprentices, who like to experiment before implementing the final one, can comfortably do so without worrying about costs. However, in this era of worldwide development, it is significant to add something unique to your own website to stand out in the competition. Therefore, whenever you feel restricted with basic free themes that are used by multiple websites at the very same time, you can solve this problem by utilizing numerous plugins that WordPress offers to extend the functionality of websites.
There are currently 59,450 free plug-ins of WordPress.

Source: Plugin Dictionary
WordPress has the power of adaptability based on users' requirements with its thousand of existing plug-ins which developers can utilize whenever they face any problem, no matter how diverse the issue is. Besides, it has become easier to add multifarious features from such extended categories of plug-ins. Though WordPress has basic features to develop a website, some users require more specialized functions and customized features as per the website's necessity. The WordPress directory has thousands of small pieces designed that are ready to perform specific tasks such as adding shopping carts, galleries, contact forms, and many more to compatible WordPress websites. With the evolution of the sites, these plug-ins can be activated, deactivated, or uninstalled at any time based on urgency. Users also have the option to purchase thousands of custom plugins from third-party developers.
– Diversified Languages
The translation program in WordPress helps it to reach a great number of audiences worldwide. Indeed, WordPress is available in more than 100 languages which the users from diverse regions find interesting and easily accessible. Besides, WordPress (WP) is the only platform that has confronted the highest number of non-English downloads.
– SEO-Friendly
Whenever there is any update on Google's algorithm, WordPress sites tend to adapt the update without any hassle. With a variety of tools and plugins, professionals can embed the proper title, optimized permalinks, the right meta headings, descriptions, and optimized images, SEO-friendly permalinks, and other on-page advantages, WordPress has become an SEO friendly content management system. While everyone around us is worried about hiring the best SEO company, the advantages that WordPress is providing have made everything easier for the web development companies in Bangladesh.
– Safe and Secured
With WordPress, the security of websites is ensured through constantly updated CMS, themes, and plug-ins that can secure websites from cyber attacks employing updated features. Statistics say around 44% of hacking is caused by outdated WordPress sites, which highlights the importance of regular maintenance of your website.
– Available Assistance
Being the most demandable content management system, WordPress surprisingly has a large group of users around the world. This community not only provides guidance in need but also assists in the growth of WordPress. Besides, there is an infinite number of blogs, articles, and other resources available online that answer lots of queries related to this platform.
The Future of WordPress
WordPress usage among web developers is only expected to rise as we continue because of its flexibility and priority to beginners. Currently, WordPress is the most reliable and versatile platform for beginners as well as professionals. It has already fulfilled the dreams of countless people to develop a functional website within budget. Besides, more and more people have started observing the benefits of using WordPress as the king of CMS.
As WordPress is continuously bringing updates for the sake of its users, it is easy to predict that the following versions will certainly ensure the optimum output. The future of this CMS king is full of potential, therefore, why not grab the opportunity for your website today with one of the experienced software development agencies in Bangladesh?
Talking about leading agencies, Dcastalia has more than a decade of experience working with renowned brands both globally and internationally, where they have gained an outstanding knowledge of WordPress web development. Some of Dcastalia's satisfied clients who have taken the WordPress development service include Eduko Bangladesh, Safar Tour and Travels, and many more.
Frequently Asked Questions (FAQs)
1. What is WordPress?
Ans: WordPress is an open-source content management system that is currently the most used platform for building websites.
2. How much does it cost to build a WordPress website?
Ans: It depends on different packages, including diverse offerings. You can also contact us to know the details about the cost.
3. How long does WordPress website development take?
Ans: The length to complete a WordPress website development varies on multiple factors containing the complexity of your project and the scope of work mentioned in the agreement.
4. Is WordPress available in my language?
Ans: Probably yes! Currently, WordPress is available in more than hundreds of languages.
5. Do big brands use WordPress?
Ans: Yes, popular websites around the globe like the White House, BBC America, Coca-cola, the Wall Street Journal, and many more are developed employing the WordPress (WP) content management system.